This year, childhood trauma expert Shahana Knight is working with a primary school to transform a year 3 classroom into the ultimate
therapeutic classroom
. This diary chronicles the project. This time, she sketches out her initial plans…
The project is underway! As I described in my September diary entry (Knight, 2021), we are giving our group of year 3 pupils time to settle into their school routines before we begin to transform their classroom space.
This will also help us get to know the children and identify those who may struggle with their emotional wellbeing. This work is now underway and we're on track to redesign the classroom during the October half-term.
Today I went to visit the school – Shevington Vale Primary School in Wigan – to observe how the children use the classroom. I then stayed behind to meet with the class teachers – Gill Handley (who is also an assistant head) and Laura Hart – and headteacher Andy Houghton to gather their initial thoughts about how things could look.
So, at 2.35pm, I walked into the year 3 classroom to see lots of children bustling about. I settled myself down on a little brown sofa in the reading corner and curled up to write some notes. I wanted to see how the children used the space, what worked and what didn't.
At this point, other from some therapeutic décor, the room is what one might call a standard classroom. It is set out as you would expect with a series of rectangular tables and blue plastic chairs. It isn't as cluttered, overwhelming, or bright as many classrooms I see because the school has already implemented some therapeutic approaches.
As I was observing, I noticed a number of children were sat on their knees on the chairs, either with both knees tucked under them or just one. Other children were stood up and were leaning over tables to do their work, ignoring the chair behind them. Some were swinging on their chairs, and some were leaning on their chairs. It was an art lesson, so it was a good time to observe a natural, more relaxed atmosphere and how pupils used their bodies in the space.
I began sketching out the room. Suddenly I was hit with a huge pang of anxiety. I found myself full of doubts: "Can I really pull this off?" I have no idea where this feeling came from because I trust my research, the science behind the ideas, and my instinct.
But I have to admit that for a moment I was freaked out.
As the end of the day drew near, the children began to put their heads on tables and curl up more in their chairs.
Watching the pupils use the existing space is an important part of the process. My therapeutic classroom approach (Knight, 2018) links to the idea that children are not encouraged to feel relaxed or comfortable in the classroom. They are often restricted in their movement which can then cause them to disengage or fidget. Today's observation supported this, as many of the children were unable to spread out, stretch or curl up when they needed to. They were restricted by the little chair and a hard table.
As I sat there during the lesson, I mapped out a sketch of what the room could look like (see below), something that complemented the teachers' needs but which would allow the children to become more creative and comfortable as they learn.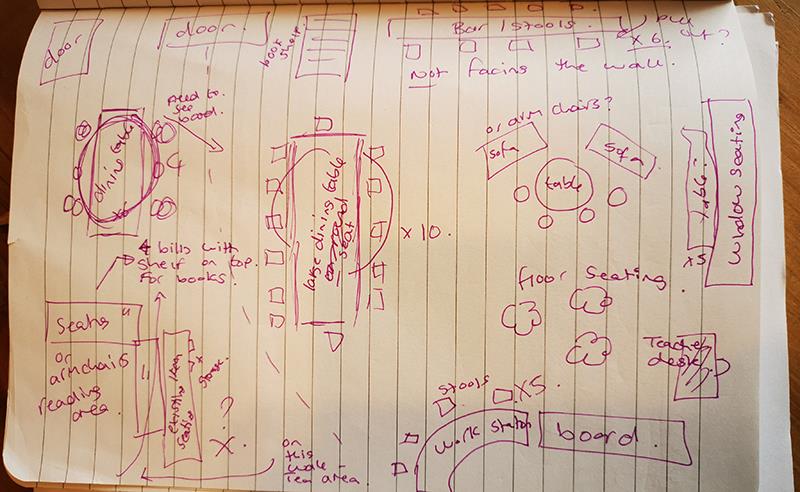 From small acorns: The first ideas of Shahana Knight's therapeutic teaching environment are jotted down during a visit to the year 3 classroom (image: supplied)
I want the design to allow them to choose different locations around the classroom, depending on their mood or need at any one time.
After the lesson, I sat down with the headteacher and the two teachers (they share the role). We had a wonderful discussion touching upon the use of space and potential room lay-out. Andy is amazing and is open to my ideas. I suggested we get rid of all chairs and tables and replace them with bistro-style seating, bars, and bar stools, and even a dining table! I expected some resistance but what I got was excitement and enthusiasm – it was lovely to see everyone get on board and us all throwing ideas around.
Both Andy and I had been pinning ideas on Pinterest, so we talked through inspiration for the room using visual prompts. By the end of the session, we had a list of items we wanted to see and a clear idea of what we wanted the classroom to look like. If we can pull this off, it is going to be something very special indeed, but don't take it from me…
Andy Houghton, headteacher
"The work that has already been put into creating a therapeutic environment
around our school has had a huge impact upon learning across our classes. Transitions are calmer, lessons are quieter and children more settled.
However, even with the changes already made, there is still a knot in my stomach over Shahana's proposed project in our year 3 classroom!
The traditional classroom set-up has stayed the same throughout my entire life, not just my teaching career, so to envisage it looking so different is simply alien. How will handwriting be affected by the seating? Will there be fall-outs over cushions? How can you bring pupils back together quickly? All of these questions and more plague the process, but there is a huge part of me that wants to know if it will work.
Like in all fields, there will be evidence to argue for and against – but I know that whenever tasked with work I don't choose to sit at a desk. I sprawl on a sofa with laptop on knees or sit on a stool in our kitchen. At work, I often hop around school and perch at tables or lean on bookcases. I am writing this while sat in our hall as 28 pupils sit their GL assessments and there isn't a comfy child in sight!
The change, although dramatic, might simply be logical – and I cannot wait to see the impact."
Gill Handley, year 3 class teacher
"We have already seen the benefit of the small therapeutic changes we have made to our classroom, such as lamps, natural hessian boards, and rugs. We have found that it is visually appealing and has created a calming space; the children are more focused too.
We believe in the principle that the right atmosphere inspires learning and so we are excited about this opportunity to "reinvent school", creating the best environment for the needs of our children.
However, although it is exciting and we are pleased to be 'chosen', we do have reservations about how it will affect behaviour, about the time it will take to retrain pupils to work in the new environment after half-term, and about the impact of flexible seating on the quality of work.
Having said that, we're the kind of school that likes to be different and are willing to take risks if it means we can improve education for our children."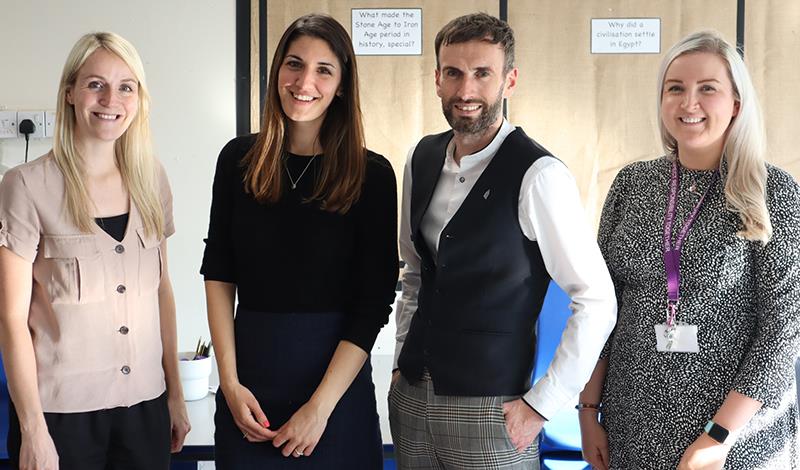 The team: (from left) assistant head and year 3 teacher Gill Handley; Shahana Knight; headteacher Andy Houghton; year 3 teacher Laura Hart (image supplied)
This article was originally written for Head Teachers Update magazine
4 October 2021